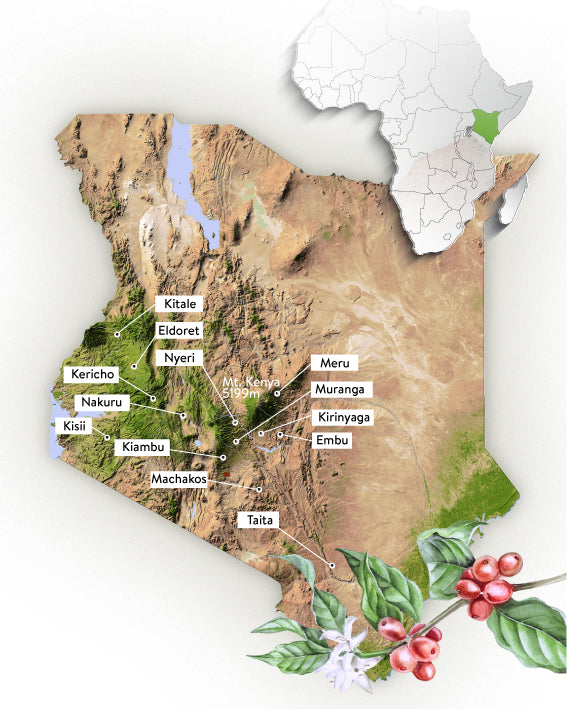 Kenyan Coffee - Growing Regions & Growing Conditions
The main growing area stretches south from the slopes of Mt. Kenya almost to Nairobi. There is also a smaller coffee-growing region on the slopes of Mt. Elgon, on the border between Uganda and Kenya. The different regions can be clustered as follows:
Central – The central region is one of the most fertile parts of Kenya, and it is where most of the Kenyan coffee is grown. The main coffee growing areas in the central region are Nyeri, Kiambu, Muranga, Kirinyaga and Thika. Besides the small-scale farmers, the central region also has most of the large coffee estates. Our Maguta Estate Single Origin Coffee is from this region.
Eastern – Eastern region has some high altitudes areas like Meru. Other coffee-producing areas in the Eastern region are Embu, Machakos, and Tharaka.
Coast – While the Kenyan coastal region is mostly arid land that does not receive a lot of rain, there is still some good coffee growing regions like Taita Taveta. What the region lacks in rain it makes up with good sunshine needed for both, coffee growth and drying.
Western – The Western region offers fertile soils and consistent rains every year, and thus produces some of the best Kenyan coffee beans. Here there are several coffee farmers in Eldoret, Bungoma, Kakamega, and Vihiga. During my coffee roaster trip in January 2021 I visited the Ol'ochoy Farm, Kiptebes Society, Lionhills Coffee and the Kabng'etuny Cooperative
Nyanza – This region is the area around Lake Victoria and the high altitudes with elevations of at least 1.130 meters above sea level. It makes it ideal for the growth of coffee. Also, the region has rich loamy soils in areas like Nyamira, Kisii, and Oyugis.
Growing Conditions
Kenya's climate is perfectly suited for the growth of coffee. Coffee grows in fertile volcanic soils and at high elevations that are often between 1.400 and 2.000m above sea level. The fertile deep volcanic soils that are also well-drained are perfect for the growth of Arabica coffee. These soils are also acidic with a pH that ranges between 5.3 and 6.0 which makes them even more ideal for coffee.
Arabica coffee also needs more rain to thrive and in Kenya, the 1,000 mm to 2,000 mm rainfall per year in most coffee growing areas which is also well distributed across the year is perfect for this coffee type.
Climate - the country's tropical climate is more than ideal for the coffee production. It is difficult to distinguish between months with balanced temperature, seasons are virtually nonexistent. Two rainy period (April-June and October-November) will diversify the micro climate and the remaining dry months comes the harvest.
Soil - Kenya's soil is unusually fertile due to the presence of an active volcano system. The volcanic soil is rich in mineral nutrients that enhance the flavor of the coffee.