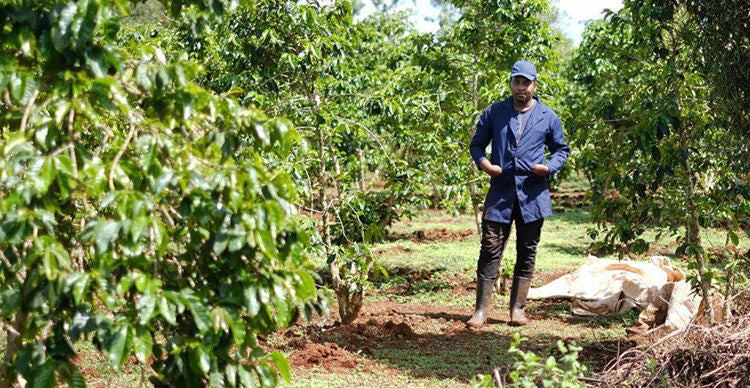 Our Coffee and Farmers - Maguta Estate Coffee
The coffee estate from the Central region is located at the foothills of Mount Kenya in a small Village known as Muruguru in Nyeri. David Maguta Ngibuini took over the 5 acres of land from his mother rehabilitated it.
The high altitude, the nutrient rich volcanic soil, and the proximity to water as well as the climate conditions makes it the perfect place to grow coffee.
Most farmers told him that he can only make a profit if he has large volumes of coffee. David however did more research and knew that despite having only 5 acres of coffee, he should increase the quality of the coffee from the plant throughout the whole processing. 


To maintain the highest level of quality from their coffee cherries at Maguta Estate there are mainly 3 carefully executed processing methods:
Fully Washed Process
This is the most common processing method of coffee in Kenya which Maguta Estate initially adopted and still maintains. They pulp, ferment  (15 - 48 hours), wash and grade and sundry on African beds under shade.


Natural Processing
The favorite and most sustainable at Maguta Estate as it uses very little water and creates the best explosion of flavors from their plantation. They harvest a cherry at 18 – 2 Brix sugar content, sort, grade then sundry the cherries on African beds.


Carbonic Maceration
A process that they have grown fond of and allow controlled fermentation (72 hours) in plastic or stainless-steel tanks and dry on African parabolic shaded beds.
The coffee trees at Maguta Estate had never been sprayed with fertilizers and thus makes the coffee organic and David was keen on maintaining this organic coffee trend.


Women in Coffee
Believing in women empowerment the farm currently gives jobs to the women around the area. Total 5 permanent jobs (3 women and 2 men) while hiring over 40 women during the coffee harvesting season.