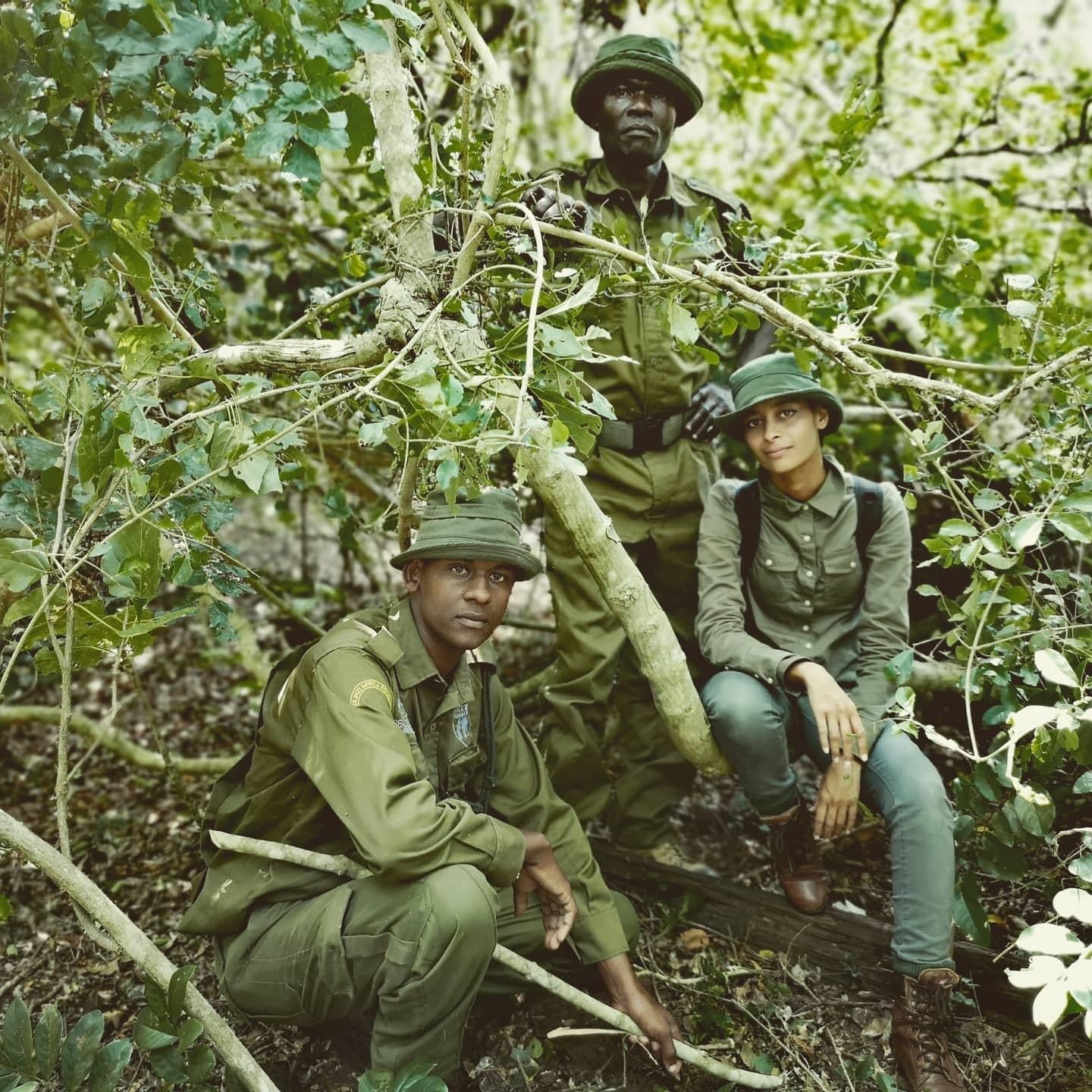 Reports from the field - 02/2021
February was a busy and challenging month. Plenty of successful patrols with recovered snares, confiscated poaching tools and several arrests which were brought to police and or court. A big fire kept the team busy and damaged and/or destroyed infrastructure in the region.
Nevertheless the team keeps going
02/02/2021
Lost a zebra who was snared in cultivated area. Wildlife moving outwards in search of water. We are preparing for a major drought in May June.
04/02/2021
Just recovered 3 bows, 7 arrows (3 poisoned) , 4 spears, 1 bicycle, piece of water buck meat, and an owls foot.
Also had a talk with the children in the area, they were playing with these. I will make a plan to do an education and awareness talk at the local school and end in a friendly football match kids vs rangers. Worked wonders last time. Let's hope 🙏
The poachers wife had a new baby. She was scared and I calmed her down, I asked her to talk to him (he ran away when he found out we were on the way after some of his colleagues saw the car heading that way from a distance)
His wife really tried to tell him not to push but he didn't listen
If he comes on site we may be able to reform him entirely into a ranger.
I'm very hopeful and positive about this after spending a long time talking to his wife.
Let's hope we are successful. The flipside is he is unwilling to stop poaching even with secure form of income, in which case the unfortunate may have to happen.
Let's hope for the best in this case
Either way I will continue to visit the family where possible and also work on the school program


05/02/2021
It's 3am we are on a raid
Unfortunate 😔 but we got Intel he is the gang leader and has been operating for a long time, tried dialogue with no results
Will try on site
Still hoping for the best
Got him.
He tried to run but we managed to catch him
We have tried dialogue but he won't sell out his other 4 gang members
We are moving to station and will try there to talk to him again
It's so sad that he is such a hardened poacher not even his wife and kids will move him to break his poaching ring
Very very sad indeed 😔
Tried to get some sleep but not working 🤣we return to scene of crime at 2pm to speak with the family and get contact numbers of the other guys from poachers phone. I hope I will be sleepy after that. This morning I will be following up on the assailants case
06/02/2021
Spent a lot of time with some community members today where we arrested the poacher. He was let out on cash back and they are scared saying he walks around with a machete and gives people angry looks. I was sympathetic to his wife and kids, but he is an actual threat to the community now, furthermore as soon as he got home, he went out to check on his snares!
I hope the prosecution is successful, we will try to ambush him tomorrow in case he's done it again. His court case is on Tuesday
They appear to have been living in fear of this guy for a long time
08/02/2021
Recovered today
15 snares
2 arrows
1 bow
2 pieces lamping equipment
1 saw
1 knife
2 panga
1 axe
2 bicycles
1 suspect being booked and 1 on ambush

09/02/2021 - poacher in court
Poacher denied all charges
Cash bail of 50k or bond of 100k or value of similar amount
Mention on 23rd Feb 2020
🤲🏼🥳🙏🏼
Had a meeting with odpp. They have given cop station 24hrs to produce suspect failure to which officer who issued bail must appear in court to explain why they are treating wildlife crime with leniency
10/02/21
Large fire seen at 0238 hrs
Ulinzi and kipini teams alerted and en route
Kfs alerted and will respond with Raabia
Response action : to extinguish fires


Whole security base just burnt down. Nothing we could or can do. Whole forest on fire 😢😔💔
Everything is razing
Elephants just had new babies they can't run fast 😔💔
Fires are now reaching our ranger outpost one team deployed to go and take down camp and recover everything 😔
2 am we are all still alert. Fires seem to have calmed as of an hour ago.
Kws has sent me reinforcements to stay with me now for some time because I can't manage on my own all the animals have no cover now. The elephants are completely exposed. They just had babies recently and they are so tiny they can't run fast enough so now the herds are heading to open spaces and farms.
The threat to their safety has heightened but I am positive we will keep them safe with all of us now here.
I have never seen our elephants out in the open this way with babies here. Never. But now there is nowhere left to take cover 😔💔
Reinforcements arriving at base
 13/02/2021
1 arrest
 17/02/2021
Prosecutor had asked for the case to be deferred due to need for some documents
Unfortunately he has been instructed by his senior, that he wants to personally review the file to check if those requirements are necessary.
Following this concern, the odpp will further instruct the case.
Case now will be deferred to Monday and prosecution notes that all requested documents are in court nonetheless.
No bond was instructed
The accused pleads to court for bond in order to take care of his crops with a surety to appear in court on Monday
Magistrate takes into account that accused has been in remand since 13 Feb and no charges have been inferred
If found guilty he is liable to be fined upwards of 200k or sentencing of that order
Article subsection 1h allows release on bond pending trial, he finds merit for bond, granted bond of 100k to be executed together with letter from area chief.
Alternative cash bail of 50k with guarantor of that amount with letter of area chief showing domicile of suspect.
Mentioned 22nd Feb to confirm if dpp has concluded review of file.
! 🥳🥳🥳🥳🥳🥳🥳🥳🥳
22/02/2021
Updates from court:
Logging case deferred to Wednesday
Cattle grazing case was charged incorrectly by OCS under trespass act which holds a fine of 5 usd! 5! I have asked that it also be deferred and it may also be on Wednesday
Wednesday is also the bushmeat poaching case in Garsen!
I have to split myself in half now.
18th March hearing for these two bushmeat traders
Forests on fire again, all teams responding, we should be able to contain it. Will update
24/02/2021
 Hawa Raabia: Plea of suspect S. K. :
Charges read out as follows:
1. Illegal entry into a wildlife protected area
Suspect denies
2. Illegal logging
Suspect denies
3. Possession of weapon in protected area
Suspect denies
Mention on 10th March

Out on bond as of yesterday
To appear in court 10 march
Hawa Raabia: Plea hearing I. S.:
1. Illegal entry into protected area
Suspect denies
2. Illegal grazing in protected area
Suspect denies
Plea hearing
1. Illegal entry into protected area
Suspect denies
2. Illegal grazing in protected area
Suspect denies
 Mention on 8th march